History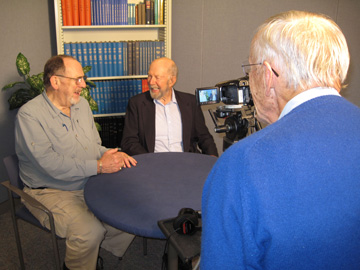 Since 1993, the UCDEA Video Records Project has been creating an oral history of the UC Davis campus by recording interviews of emeriti/ae as well as others who have made significant contributions to the development of the university. These interviews take the form of a recorded conversation between the interviewee and one of his/her friends and/or colleagues. More than 470 interviews have been recorded to date (Spring 2018). All new emeriti/ae are encouraged to arrange for an interview.
Interview videos are shown regularly on the Davis Community TV (DCTV) cable channel, and may be streamed from their website.
DVDs of the Video Records Committee interviews through 2017 are on file in Special Collections, Shields Library. The Special Collections Reference Desk, which is on the Main Floor of the Library. Please consult the Reference Desk to check out a tape for viewing.
Reference Desk Hours: 9 a.m. to 4 p.m.; Monday through Friday
Reference Desk Phone: (530) 752-1621
Beginning in 2017, the committee has worked to post the interviews to the AggieVideo website. Use the "Search" feature in the upper right corner to find a recent video by last name. The List of Video Records Interviews is updated quarterly.
In Memoriam
We note the passing of Eldridge Moores, distinguished professor emeritus in Geology. He died October 28, 2018; he was 80. Professor Moores began his career at UC Davis more than 52 years ago as a founding member of the Department of Geology (now known as Earth and Planetary Sciences) and the College of Letters and Science. As a lasting legacy of Eldridge Moores' career at Davis, many of his talents and perspectives are noted in his interview with Professor Dawn Sumner which may be found as a part of the UCDEA's video records collections.
We also note the passing of Cynthia Louise Brantley, professor emerita in History.  She passed away in her Davis home on September 20, 2018.  Professor Brantley was the first female professor and first Africanist historian in the department from 1972 until she retired in 2009.  She also played a significant role in the development of Gender and Cross-Cultural Studies at UC Davis.  Her service in these areas led to the creation of the campus' Women's Resource Center.  Much of her legacy may be found in her interview with Alex McCalla regarding factors that shaped her interests, scholarship, and commitment to gender and cross-cultural studies.
These videos leave a lasting legacy. Please consider what being able to view this video meant to you, and if you have not already been interviewed for the UC Davis Emeriti Association's Video Records project, click here to contact our schedulers.
Recent Interviews
Dennis Matthews, Ph.D., holds joint appointments as professor emeritus in the Departments of Neurological Surgery (UC Davis School of Medicine) and Applied Sciences (UC Davis School of Engineering). He is Director Emeritus for the Center for Biophotonics Science and Technology. Throughout his career at UC Davis and Lawrence Livermore National Laboratory, he has been a leader in the field of biophotonics and is credited for inventing and developing x-ray wavelength lasers for disease diagnosis and treatment. He is a Fellow of the American Physical Society, the Society of Photo and Industrial Engineers and the Optical Society of America and is the co-editor of the Journal of Biophotonics. Dr. Matthews is also responsible for the development of a biomedical technology stem of research and teaching curriculum within the Department of Applied Science. He is interviewed by his colleague, Yin Yeh, professor emeritus in the Department of Applied Sciences.
https://video.ucdavis.edu/media/466+Matthews/0_olvs880v
Fred Block, Ph.D., is professor emeritus in the Department of Sociology. He has made seminal contributions to political and economic sociology. His writings focus on critiques of free market economics. He has also played a particularly important role in reviving the work of Karl Polanyi, one of the 20th century's incisive critics of the idea that markets can and should be self-regulating. As examples, his most recent book contributions are Fred Block, Capitalism: The Future of an Illusion. Berkeley: University of California Press and "Karl Polanyi and Human Freedom," in Michael Brie and Claus Thomasberger, eds. Karl Polanyi's Vision of a Socialist Transformation. Black Rose Press, 2018. For such efforts, Dr. Block was selected as the Edward A. Dickson Emeritus Professor Awardee In 2016, one of the Emeriti Association's most distinguished honors. He is interviewed by his colleague, professor emerita Nicole Biggart from the School of Law.
https://video.ucdavis.edu/media/Fred+Block/1_pcgjr4cz
Sally P Mendoza, Ph.D. is Professor Emeritus (2013) in the Department of Psychology. Dr. Mendoza is a primatologist, whose research interests concern the neuroendocrine mechanisms contributing to the generation and maintenance of primate social systems. Dr. Mendoza served as a past Chair of the Department of Psychology. She publishes extensively in areas salient to psychosomatics and the sociophysiology of stress and reproduction in various mammalian species. Dr. Mendoza is also an Associate Editor of the Journal of Comparative Psychology, Aggressive Behavior, and American Journal Primatology. She is a member of the core faculty at the California Regional Primate Research Center (CRPRC). She is interviewed by a colleague at CRPRC, Dr. Katie Hinde.
https://video.ucdavis.edu/media/470+Sally+P+Mendoza/0_14tl0xvg
Robert Cardiff, M.D., Ph.D. is a distinguished emeritus professor in the Department of Pathology and Laboratory Medicine, School of Medicine, UC Davis. He is a specialist in the diagnosis of breast and mammary cancer in both human and animal models. He was the Chair of the Department of Pathology and Laboratory Medicine from 1990 to 1996 and the founding Director of the UC Davis Medical Center's Center for Medical Informatics and is currently the Director of the UC Davis Center for Comparative Medicine's Mutant Mouse Pathology Laboratory. His work has been recognized by awards (e.g., most recently his election as a Fellow in the American Association for the Advancement of Science). He was selected as the UC Davis Emeriti Association's Dickson Emeritus Professor Awardee in 2018 based on the impact of his work focusing on mammary cancer. He is interviewed by a colleague, Murray B. Gardner, MD., Distinguished Professor Emeritus, Center for Comparative Medicine.
https://video.ucdavis.edu/media/471+Robert+Cardiff/0_0l2ptkzp
Centennial DVD Project
As part of the commemoration of UC Davis' centennial in 2010, Professor Emeritus Verne Mendel compiled many of the Video Records Project interviews — organized by college, school, or department — to create 23 DVD's. He was awarded the Edward A. Dickson Emeriti Professorship Award in 2008 for this project. Centennial DVDs may be viewed in the Special Collections section of Shields Library.
About the Committee
The primary objective of the Video Records Committee is to record for posterity, interviews of emeriti/ae and distinguished retired members of the UC Davis campus. Additional information, including the current Charge and committee members can be found on the Standing Committees > Video Records Committee page.
Volunteer Opportunities
The Video History Project is comprised solely of volunteers. Opportunities abound and training can be provided.
Schedulers: Schedule interviews, working with the Interviewee, Interviewer, and Videographers.
Videographers/Editors: Learn to record in a professional-style studio and edit video with Adobe NLE editing software (will train!!).
Administrative: recruit candidates for interview, review and comment on draft video interviews.
If interested, please contact the UCDEA Video Records Committee via the UC Davis Retiree Center.