History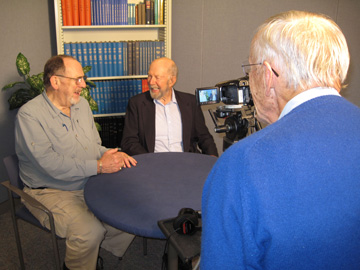 Since 1993, the UCDEA Video Records Project has been creating an oral history of the UC Davis campus by recording interviews of emeriti/ae as well as others who have made significant contributions to the development of the university. These interviews take the form of a recorded conversation between the interviewee and one of his/her friends and/or colleagues. More than 470 interviews have been recorded to date (Spring 2018). All new emeriti/ae are encouraged to arrange for an interview.
Interview videos are shown regularly on the Davis Community TV (DCTV) cable channel, and may be streamed from their website.
DVDs of the Video Records Committee interviews through 2017 are on file in Special Collections, Shields Library. The Special Collections Reference Desk, which is on the Main Floor of the Library. Please consult the Reference Desk to check out a tape for viewing.
Reference Desk Hours: 9 a.m. to 4 p.m.; Monday through Friday
Reference Desk Phone: (530) 752-1621
Beginning in 2017, the committee has worked to post the interviews to the AggieVideo website. Use the "Search" feature in the upper right corner to find a recent video by last name. The List of Video Records Interviews is updated quarterly.
In Memoriam
We are saddened to note the passing of Robert L. Hunter, one of the founding faculty members of the UC Davis School of Medicine.  He died on March 4, 2019. He was 97. Professor emeritus Hunter was hired in 1966 and served as chair of the Department of Anatomy from 1968 to 1974. He retired in 1988. His research focused on novel histochemistry applications. He was active in the Histochemical Society and served as its president in 1969. He was also involved in university service on many levels, serving on committees of the Academic Senate including the Committee on Courses of Instruction and the Executive Council. He also served as a past president of the Davis chapter of Phi Kappa Phi and Sigma Xi. Many of his talents and perspectives are noted in his interview with Vijaya Kumari, professor emeritus, Cell Biology, and Human Anatomy, which may be found as a part of the UCDEA's video records collection. A memorial service will be held in Davis on June 29.
We also note the recent passing of Charles A Lacy, dean emeritus for the UC Davis Continuing and Professional Education Department. He died February 13th the age of 79. Charles Lacy came to UC Davis as a doctoral student in 1968, following the completion of a master's degree from UC Berkeley in political science, and a bachelor's degree in government from Miami University in Ohio. His affiliation with the UC Davis Continuing and Professional Education Department (University Extension; UNEX) began in 1972. Over a span of approximately 30 years, he held various leadership positions. He became Dean in 1991. When Charles Lacy joined UNEX, the organization had 30 employees and about 7,500 people enrolled in its various programs. When he retired in 2001, UNEX had over 200 employees with over 80,000 students enrolled per year. As a testament to his ability to forecast the region's educational needs and his leadership, he received the James H. Meyer Distinguished Achievement Award in 1991 from the UC Davis Academic Federation.  Charles also has served as president of the UC Davis Retiree's Association (2005) and was active in the Emeriti Association as chair of the University and Public Relations committee. As a remembrance, donations can be made to the Yolo Community Foundation. 
As a lasting tribute to Charles Lacy's career at UC Davis, his talents and perspectives are noted in an interview with his colleague and friend, Dennis Pendleton, dean emeritus of UC Davis Extension.
These videos leave a lasting legacy. Please consider what being able to view this video meant to you, and if you have not already been interviewed for the UC Davis Emeriti Association's Video Records project, click here to contact our schedulers.
Recent Interviews
John Walton, professor emeritus of Sociology, was appointed in 1978 and retired in 2004. Professor Walton has made contributions in areas that are highly significant to our understanding of comparative sociology, social change and revolution, political economy, and urban sociology; particularly as relates to politics in Latin America.  He has been a Leverhulme Trust Fellow and a Woodrow Wilson International Center Visiting Scholar. He is recipient of numerous awards including the prestigious the Robert E Park and Helen Lynd Career Achievement Award from the American Sociological Association. He is interviewed by his friend and former student, Mridula Udayagiri, Executive Director of the Center for Engaged Scholarship and  Professor Emerita, Department of Sociology, California State University, Sacramento.
https://video.ucdavis.edu/media/0_dtxo3kiq
James Smith is an emeritus member of the clinical faculty of the School of Law. He was appointed in 1976 and retired in 2007. Before his appointment at UC Davis, he was a legal assistance attorney. He is the founder and director of King Hall's Immigration Law Clinic, which has represented hundreds of immigrants in deportation proceedings. Prof. Smith is also a coauthor of the California State Prisoner's Handbook, a manual on California corrections law, including legal issues involving noncitizens. He is valued as a teacher in areas ranging from immigration and policy to international finance and trade. He is interviewed by his friend, former student, and colleague, Amagda Perez, also a member of the School of Law's clinical faculty.
https://video.ucdavis.edu/media/476+Smith/0_f9m1j7wr
Centennial DVD Project
As part of the commemoration of UC Davis' centennial in 2010, Professor Emeritus Verne Mendel compiled many of the Video Records Project interviews — organized by college, school, or department — to create 23 DVD's. He was awarded the Edward A. Dickson Emeriti Professorship Award in 2008 for this project. Centennial DVDs may be viewed in the Special Collections section of Shields Library.
About the Committee
The primary objective of the Video Records Committee is to record for posterity, interviews of emeriti/ae and distinguished retired members of the UC Davis campus. Additional information, including the current Charge and committee members can be found on the Standing Committees > Video Records Committee page.
Volunteer Opportunities
The Video History Project is comprised solely of volunteers. Opportunities abound and training can be provided.
Schedulers: Schedule interviews, working with the Interviewee, Interviewer, and Videographers.
Videographers/Editors: Learn to record in a professional-style studio and edit video with Adobe NLE editing software (will train!!).
Administrative: recruit candidates for interview, review and comment on draft video interviews.
If interested, please contact the UCDEA Video Records Committee via the UC Davis Retiree Center.