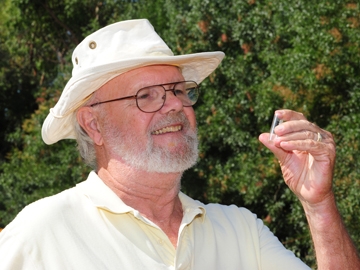 World-renowned native pollinator specialist Robbin Thorp,UC Davis emeritus professor of entomology, is the recipient of the 2015 UC Davis Distinguished Emeritus Award for his outstanding scholarly work and service accomplished since his retirement in 1994.
He was honored in February at a chancellor's luncheon where he received a plaque and a cash award.
"Professor Thorp has had an outstanding professional career in the area of pollination ecology and systematics of honey and bumble bees," said Lyn Lofland, president of the Executive Committee of the UC Davis Emeriti Association. "He has continued his professional contributions since he retired publishing both scientific papers and books. He has continued to teach and guide graduate students providing them with the benefit of his vast experience and knowledge. He also provides expert taxonomic services, identifying thousands of native bee specimens. He has coupled this effort with training numerous field assistants. Professor Thorp matched perfectly with the criteria established for the Distinguished Emeriti Award." Read more.