Gyöngy Laky named 2019–2020 Dickson Professorship Awardee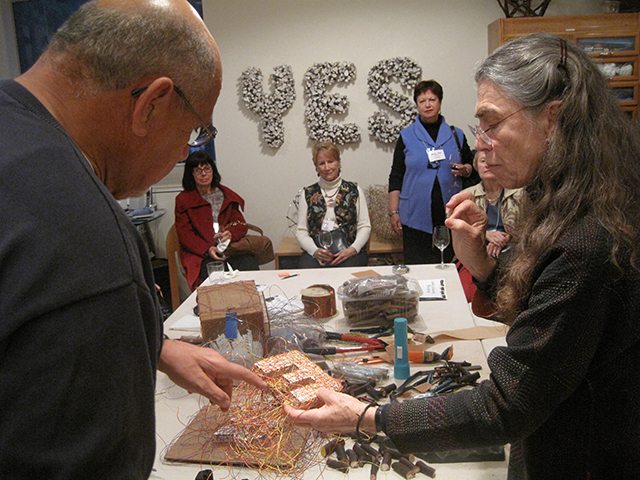 The Edward A. Dickson Emeriti Professorship Award is an endowed fund that provides support to emeriti/ae professors for their teaching, research, and/or public service. Separate endowments support these professorships at each UC campus and the award is administered separately on each campus.
The UC Davis Emeriti Association named Gyöngy Laky to the 2019–2020 Edward A. Dickson Professorship Award so that she can advance her project, "Preparing for the Unexpected: The Life and Art of Gyöngy Laky," a book about her life and her art.
Laky has been an artist for over 50 years. Her work is in over 20 museum permanent collections in the US and abroad including, locally, the Crocker Art Museum, the Oakland Museum of California, the M. H. De Young Museum and the San Francisco Museum of Modern Art as well as a number of corporate collections. Her oral history, Gyöngy Laky: Fiber Art: Visual Thinking and the Intelligent Hand is in the Oral History Center of the Bancroft Library at UC Berkeley. Her papers and documents are in the Archives of American Art, Smithsonian Institution, Washington, DC.
Laky taught for 28 years as a professor at UC Davis. She chaired the Department of Art at UC Davis in the mid-1990's, and led efforts in gender equity and diversity in faculty hiring post-Proposition 209 for the UC system. She retired from UC Davis in 2005 and has remained active with her art, exhibiting locally and internationally. She currently has an exhibition at the Monterey Museum of Art (http://www.montereyart.org) through January 26, 2020. Visit her website at: www.gyongylaky.com.
The Emeriti Association is pleased to support her project and looks forward to its success.