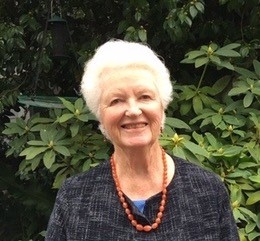 Professor Emerita Linda Morris, Department of English, has had a very prolific and well recognized productive period since her retirement in 2005, In 2007 she published her ground-breaking book, Gender Play in Mark Twain: Cross-Dressing and Transgression. Her book has had a major impact on the next generation of Twain scholars, offering a whole new perspective on Twain's career. Morris was the first recipient of the Olivia Langdon Clemens Award, and a year later she received a Charlie Award from the American Humor Society "in recognition of significant contributions to the field of humor studies."
With Professor Ronald Jenn of Lille University, Morris was awarded a prestigious France-Berkeley research grant to study the multiple source materials for Mark Twain's Personal Recollections of Joan of Arc. Together they published papers on Twain's Joan of Arc, inspired the publication of a special issue of American Realism devoted to Joan of Arc, and a French collection of essays on Joan in America. Morris was invited to present a lecture on that subject at the Historial Jeanne d'Arc in Rouen; in addition, a film Morris helped create, "Mark Twain et Jeanne d'Arc: L' Histoire d'une Passion" was awarded first prize in the documentary category at the Paris Anstie Film Festival in 2018. Morris has published a number of scholarly papers since her retirement, including work on Roz Chast, Frances Trollope, and most recently, a co-written paper with Professor Kate Morris on the humor of Cree artist Kent Monkman.
In addition to her scholarly work she has actively contributed to her local community, serving for nine years on the Board of Directors of the Berkeley Community Chorus and Orchestra, and for three years as President of the organization. She also served as President of the Mark Twain Circle of America.
Morris served on the Davis faculty for 28 years, beginning as the Director of Subject A in the English Department, and for many years as Director of the Writing Program. She had the honor, as well, of co-founding with Karl Zender the Writing Across the Curriculum Program, which is thriving to this day. She ultimately served as Director of Women's Studies and Chair of the Department of English.
We are honored by the recognition she brings to UC Davis in her retirement.