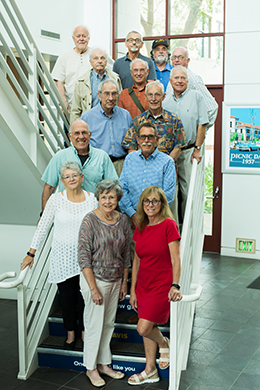 The UC Davis Emeriti Association (UCDEA) is governed by an executive committee consisting of officers, at-large members, committee chairs, and ex-officio members. Members are encouraged to take an active role in the association by serving on a committee or running for a position on the executive board.
The UCDEA board is guided by its bylaws.
Executive Officers
President: Tom Sallee
Vice-President, President-elect: Barry Klein
Secretary: Bob Flocchini
Treasurer: Evelyn Lewis
Archivist: Buzz Haughton
At-Large Members
Roy Curry (July 2018 - June 2020)
Winston Ko (July 2017 - June 2019)
Diane Barrett (July 2017 - June 2019)
Standing Committees
Ex-officio Members
Member-at-Large, UC Davis Retirees' Association (UCDRA): Tom Compton
Director, UC Davis Retiree Center: Becky Heard
UCDEA Representatives to the Council of UC Emeriti Associations (CUCEA)
Tom Sallee, UCDEA president
Barry Klein, alternate
UCDEA Representative to the UC Davis Retirees' Association
Past Presidents
Past presidents of the UCDEA serve as ex-officio members of the current committee.
Jo Anne Boorkman; 2016-2018
Lyn Lofland; 2014-2016
John Vohs; 2012-2014
Bill Rains; 2010-2012
Alex McCalla; 2008-2010
Dick Walters; 2006-2008
Charley Hess; 2004-2006
Ed Constantini; 2002-2004
*Paul Stumpf; 2000-2002
*Orville Thompson; 1998-2000
*John  Whitaker; 1996-1998
Verne Mendel; 1994-1996
*C.C. Delwiche; 1992-1994
*Richard Cramer; 1990-1992
*Paul Stumpf; 1989-1990
* denotes deceased