Charles Halsted, Professor Emeritus, UC Davis School of Medicine
Poetic Medicine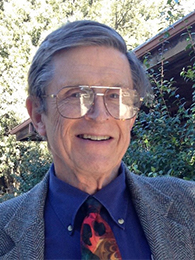 I retired from UC Davis and the School of Medicine in 2016, after 43 years of challenging and rewarding teaching, conducting research, and caring for patients at UC Davis Medical Center. Prior to taking this step, I formed a men's retirement group at the Unitarian Church of Davis, with a goal of learning how to adjust to this late stage of life. Our stories and readings re-enforced the overriding importance of developing a challenging new pastime in order to ward off late-in-life depression that often affects retirees with nothing to do.
I had obtained a liberal arts education at Stanford prior to embarking on my medical career and prided myself on the ability to provide accurate written descriptions of each of my subsequent patients and their illnesses. Initially attending a few local poetry workshops, I discovered the Stanford Continuing Studies program, and have now attended eight consecutive and rigorous 10-week on-line poetry courses. My confidence has been re-enforced by publication of a growing number of original poems on a variety of topics in different journals.
Based on my medical career, I have included a number of poems about medical illness and patient care in my growing repertoire. Here is a poem based on a patient I cared for in my outpatient clinic at UCDMC, a friend with colon cancer.
Quality of Life
I slid in the scope past ridges and caves,
along a dark tunnel with purplish seams –
twisting and turning till finally it gave
out to a space where a pebbly lump gleamed.
From the end of the tunnel with purplish seams,
his life would be shortened by bloody ooze
into the space where the pebbly lump gleamed.
I slipped forceps through to give me a clue
from a piece of the lump with its bloody ooze,
which I sent to the lab to find out why he bled.
Cancer was the answer to the pebbly lump clue.
I'd have to tell him now, although the news would be dread.
When he awoke I told him why he'd bled.
"You've saved my life," was his reply.
Although the long-term prognosis was dread,
with surgery, he would not yet die.
To live life to the full was his reply
to the cards he'd been dealt by unwelcome fate.
Though his life might be short, he would not die
till he'd done all he could that remained on his plate.
For six long years he ignored his fate.
He traveled and painted, did all he had planned,
put aside all fears that remained on his plate,
till a spot appeared on a liver scan.
The cancer's return was not part of his plan.
Chemo became his only choice,
with puking and numbing and further scans,
until I had to tell him with quavering voice:
"No more can be done, you've no more choice,"
knowing full well that in weeks he'd be dead.
He rose from his chair and replied with clear voice:
"You gave me six years of life," was all he said.
© Charles Halsted (published in Blood and Thunder, 2016)
October 13, 2017
---
Manfred Kusch, Senior Lecturer Emeritus, French and Comparative Literature
A focus on birds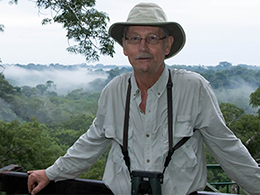 I formally retired in 2002 after 31 years of teaching and research, and many years of chairing three different departments in the humanities as well as important Academic Senate committees, both on campus and systemwide.
But despite a very busy, stimulating and fulfilling career, the transition into retirement was smooth and liberating. I had prepared for this moment ever since I was drafted into a one-room school in a tiny village in West Germany where my refugee family had been relocated after the war. Used to roaming free and unsupervised from my earliest childhood, I developed a keen interest in birds that has accompanied me throughout my entire life. My retirement then finally allowed me to devote myself more fully again to this sustaining interest. I created a large bird-friendly garden on the banks of Putah Creek west of campus that has become a hot spot for local birders.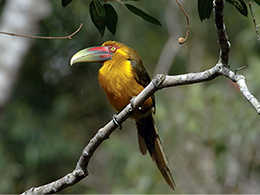 And for about 10 years now, I have developed an interest and some skill in bird photography. This has motivated me to travel extensively in the tropical regions of Central and South America in small groups of international nature photographers. I have visited remote areas from sea level to near 15,000 feet in Honduras, Costa Rica (3X), Ecuador (2X), Peru, Brazil, and most recently Colombia. The Falkland Islands and Nome, Alaska, are next on my list for 2018. Finding and photographing extraordinary birds in largely unspoiled areas of wilderness and making friends among my fellow photographers from Europe, Canada, Australia and Asia, as well as the U.S., has been one of the great joys of my retirement.
October 3, 2017
---
Gibbe Parsons, Professor Emeritus, UC Davis School of Medicine
The Magic of Listening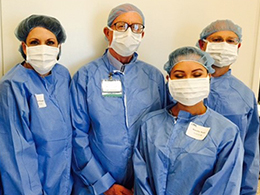 In the four years since my retirement, I have given "Med Student for a Day" tours of the hospital twice a month to small groups of donors, friends of the university or new employees. The half-day tour starts in the cafe with self-introductions and discussing what these "students" had to do to get here and why they chose us. We then walk through the Emergency Department, Radiology, Cardiology, the Medical School, the Simulation Suite of mannequins, and then into the Operating Room in "greens." During our stroll, we briefly stop 20-30 employees, volunteers, technicians, researchers, trainees, nurses and doctors, asking "Can you please tell us who you are and what you do here?" And then we listen.
Everyone we encounter is a gift--everyone who speaks to us, who tells their story, who shares a challenge, who made a choice, who shows courage, who laughs, who aspires, who volunteers, who cleans rooms, who treats others with respect and kindness, who helps the mentally ill, who helps do research, who is a scribe, who is a student, who is a manager, who is a tech, who shows up, who works with children, who works with the helpless, who found themselves, who came from another country, who learned our language, who does surgery or recovery. No one is here by accident. No one is here without commitment or perseverance. Listening gives authenticity to the speaker. Listening confers an honor. Listening gives a glimpse of who is behind the name tag. Listening is energizing to the listener. This is the magic of listening.
June 13, 2017