Support for Emeriti work in Teaching, Research & Service
The Emeriti Association administers a fund of $20,000 each year which is intended to support the work of emeriti who are currently engaged in teaching, research or community service projects.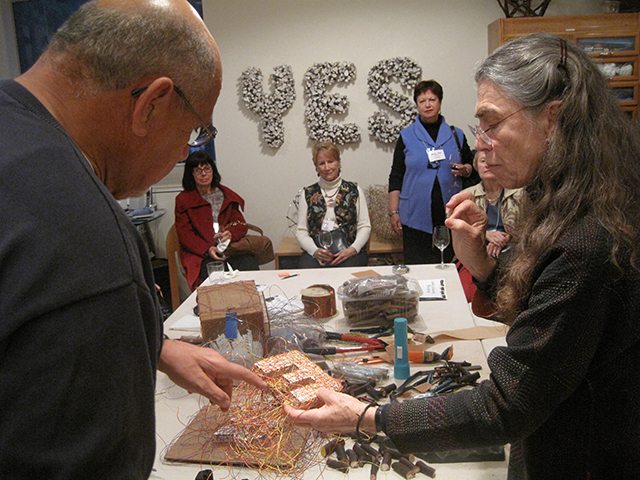 Gyöngy Laky named 2019–2020 Dickson Professorship Awardee
The Edward A. Dickson Emeriti Professorship Award is an endowed fund that provides support to emeriti/ae professors for their teaching, research, and/or public service. Separate endowments support these professorships at each UC campus and the award is administered separately on each campus.
The UC Davis Emeriti Association named Gyöngy Laky to the 2019–2020 Edward A. Dickson Professorship Award so that she can advance her project, "Preparing for the Unexpected: The Life and Art of Gyöngy Laky," a book about her life and her art.
Laky has been an artist for over 50 years. Her work is in over 20 museum permanent collections in the US and abroad including, locally, the Crocker Art Museum, the Oakland Museum of California, the M. H. De Young Museum and the San Francisco Museum of Modern Art as well as a number of corporate collections. Her oral history, Gyöngy Laky: Fiber Art: Visual Thinking and the Intelligent Hand is in the Oral History Center of the Bancroft Library at UC Berkeley. Her papers and documents are in the Archives of American Art, Smithsonian Institution, Washington, DC.
Laky taught for 28 years as a professor at UC Davis. She chaired the Department of Art at UC Davis in the mid-1990's, and led efforts in gender equity and diversity in faculty hiring post-Proposition 209 for the UC system. She retired from UC Davis in 2005 and has remained active with her art, exhibiting locally and internationally. She currently has an exhibition at the Monterey Museum of Art (http://www.montereyart.org) through January 26, 2020. Visit her website at: www.gyongylaky.com.
The Emeriti Association is pleased to support her project and looks forward to its success.
Call now open until April 28, 2020
The UC Davis Emeriti Association is now accepting applications for Edward A. Dickson Emeriti Professorship Award. (Download pdf of 2020-2021 Call). Please submit requests by 5:00 p.m., Tuesday, April 28, 2020.
Background
Edward A. Dickson served as a regent of the University of California from 1913 to 1946, the longest tenure of any regent. In 1955, Mr. Dickson presented the university with an endowment to support and maintain special annual professorships to be awarded to retired academic senate faculty members. The award is described in the gift document as follows:
"For the support and maintenance of special annual Professorships in the University of California to which shall be appointed by the President, with approval of The Regents, persons of academic rank who have been retired after service in the University of California and who shall receive such awards in addition to their retirement or pension allowances. Awards shall be made upon such conditions of service, research, or teaching as The Regents may require. Professorships so awarded shall be known as the Edward A. Dickson Emeriti Professorships."
The Proposal
Proposals should clearly indicate how the applicant would use the Edward A. Dickson Emeriti Professorship in accordance with the intent of the donor for support of teaching, research, and/or public service. For example, the funds could be used to explore new ideas in research, teaching and/or public service for which time and/or funds were not available while a member of the active faculty. The Emeriti Professorship is usually used for direct research or project expenses but can also be used for a salary stipend for emeriti/ae on recall. Proposals should be concise, but with enough detail to allow careful evaluation and should include a budget indicating how the funds would be used with brief justification for categories such as salaries, supplies, and travel. The highest priority will be given to proposals that clearly benefit the campus and for which funding is not available from other sources.
Review Process
All proposals will be reviewed by the UCDEA Awards and Recognition Committee which then will present its findings to the president of the UCDEA. Recommendations will then be forwarded to the vice provost for academic personnel for final approval and appointment to the professorship.
Post-Award Report
The Edward A. Dickson Emeriti Professorship generally begins October 1 and ends on September 30 of the following year. A report of accomplishments that have resulted from the Professorship will be requested at the end of this period.