Who we are
Established in 1989, the UC Davis Emeriti Association (UCDEA) was formed to provide retired academics of UC Davis/UCDHS or other UC campuses living in the Davis/Sacramento area with opportunities for continuing interest in and support for the excellence of the University of California, Davis. Through its advocacy, the UCDEA has been instrumental in maintaining free parking permits, compus identification cards and library privileges for emeriti, thus assuring a continued welcome to stay engaged in the campus community.
What we do
The UCDEA represents UC Davis emeriti/ae and provides the following services and programs for its members:
Monitors and advocates for emeriti rights and privileges
Provides a way for emeriti/ae to communicate with campus leaders and further particiapte in campus life
Sponsors and plans activities
Provides an historical perspective of the Davis campus through the Video Records Program
Recognizes emeriti/ae with annual awards
Supports the UC Davis Retiree Center
25 years of Advocacy, Awards and Activities
A brief look at the work of the UC Davis Emeriti Association (UCDEA) and UC Davis Retirees' Association (UCDRA) over the past 25 years.
UC Davis Emeriti/ae Faculty Handbook
Emeriti/ae professors enjoy a variety of benefits and privleges in retirement as described in the UC Davis Emeriti/ae Handbook.
UC Davis Emeriti In The News
Emeritus Professors Make a Case for Campuses to Tap Their Talents- The Chronicle of Higher Education, 6/3/2016; A recent survey of emeritus professors in the University of California system seeks to show just how productive they have been, touting such tallies as 500 books, 3,000 journal articles, and 2,500 conference papers over a three-year span.
---
Dr. Isao Fujimoto wins prestigious Constantine Panunzio Distinguished Emeritus award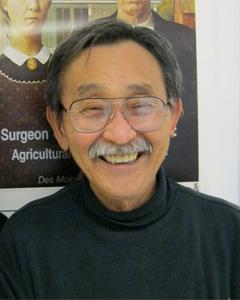 03/18/2016
The 2016 Constantine Panunzio Distinguished Emeriti Award has been awarded to Professor Emeritus of Asian American Studies, Isao Fujimoto of UC Davis and Professor Emeritus of History, Peter Kenez, UC Santa Cruz. Read more