UCDEA Video Records Project
History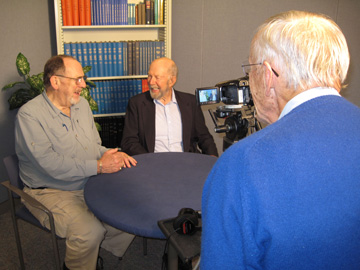 Since 1993, the UCDEA Video Records Project has been creating an oral history of the UC Davis campus by recording interviews of emeriti/ae as well as others who have made significant contributions to the development of the university. These interviews usuallly take the form of a recorded conversation between the interviewee and one of his/her friends and/or colleagues. More than 400 interviews have been recorded to date (Spring 2014). All new emeriti/ae are encouraged to arrange for an interview.
Each interview participant receives a complimentary DVD of the interview. Additional copies may be obtained on request. A small donation ($10/copy) is suggested for additional copies. Interview videos are shown regularly on the Davis Community TV (DCTV) cable channel, and may be streamed from their website.
DVDs of the Video Records Committee interviews are on file in Special Collections, Shields Library. The Special Collections Reference Desk is on the Main Floor of the Library. Please consult the Reference Desk to check out a tape for viewing.
Reference Desk Hours: 9 a.m. to 4 p.m.; Monday through Friday
Reference Desk Phone: (530) 752-1621
Recent Interviews
Dennis L. Matthews, Ph.D. is an emeritus professor in the Department of Neurological Surgery and UC Davis College of Engineering. He is the Associate Director of the Integrated Cancer Program (UC Davis Comprehensive Cancer Center) and the Director, Center for Biophotonics Science and Technology.  Honors include recognition as Fellow of the American Physical Society, the Society of Photo and Industrial Engineers, and the Optical Society of America. His interviewer is Professor Emeritus Yin Yeh in the Department of Applied Physics.
https://video.ucdavis.edu/media/466+Matthews/0_olvs880v
Montague W. Demment, Ph.D. is an emeritus professor in the Department of Plant Sciences. He is Vice President for International Programs at the Association of Public and Land-Grant Universities and a past president of the Association for Agriculture and Rural Development. Dr. Demment has made major contributions in the areas important to the feeding ecology and nutrition of herbivores and international development with focus on human nutrition.  His interviewer is Susan Johnson, Program Director in International Programs.
https://video.ucdavis.edu/media/457+Demment/0_2sbv42if
Donald O. Lyman, MD, DTPH is a volunteer professor of Public Health Sciences and senior physician with the California Department of Public Health. Dr. Lyman's work has focused on communicable diseases and injuries associated with substance abuse. He served as the Division Chief of the Chronic Disease and Injury Control Division of the California Department of Public Health. His interviewer is his colleague, Professor Emeritus Stephen McCurdy in Public Health Sciences at UC Davis.
https://video.ucdavis.edu/media/462+Lyman+final.mp4/0_7kj46qgv
Dean MacCannell, Ph.D. is Professor Emeritus in the Department of Human Ecology (Landscape Architecture + Environmental Design). Dr. MacCannell is a leader in areas critical to our understanding of how changes in landscape can influence important aspects of culture and community. During his years at UC Davis, he has been active in the International Semiotics Studies Association and in the International Sociological Association and Headlands Center for the Arts, has served as Executive Director of the Semiotic Society of America, and was a founding member of the International Tourism Research Institute (United Nations Charter). His interviewer is Marilu Carter, Managing Editor for the "Journal of the Community Development Society."
https://video.ucdavis.edu/media/459+Dean+MacCannell/0_xaf7uzh2
Antonia Bernhard, JD is Professor Emeritus and former Assistant Dean of the School of Law. An illness forced Professor Bernard to retire after 22 years of service to the School of Law. During her retirement, she has written several award-winning books and used social media to help others when life takes an unexpected turn (http://www.tonibernhard.com/Bio.html).  Her colleague, Professor Emeritus Joel Dobris, School of Law is her interviewer.
https://video.ucdavis.edu/media/460+Toni+Bernhard/0_vpq1ctxj
In Memoriam
We note the passing of Rex R. Perschbacher, former dean and professor emeritus in the School of Law. He died June 30, 2018; he was 71. Professor Perschbacher joined the law faculty in 1981 and taught and published in areas that emphasized civil procedure, professional responsibility, and negotiations. He served as dean of the Law School from 1998 to 2008 and as associate dean from 1993-1998, a period highlighted by the increased academic stature of the law school and renovation and expansion of King Hall. As a lasting legacy of Rex R. Perschbacher's career at Davis, many of his talents and perspectives are noted in his interview with Professor Bruce A. Wolk, which may be found as a part of the UCDEA's video records collections. Donations in Perschbacher's memory may be made to the Rex R. Perschbacher Scholarship at the law school, or to the UC Davis Hospice Program.
These videos leave a lasting legacy. Please consider what being able to view this video meant to you, and if you have not already been interviewed for the UC Davis Emeriti Association's Video Records project, click here to contact our schedulers.
Centennial DVD Project
As part of the commemoration of UC Davis' centennial in 2010, Professor Emeritus Verne Mendel compiled many of the Video Records Project interviews — organized by college, school, or department — to create 23 DVD's. He was awarded the Edward A. Dickson Emeriti Professorship Award in 2008 for this project. Centennial DVDs may be viewed in the Special Collections section of Shields Library.
About the Committee
The primary objective of the Video Records Committee is to record for posterity, interviews of emeriti/ae and distinguished retired members of the UC Davis campus. Additional information, including the current Charge and committee members can be found on the Standing Committees > Video Records Committee page.
Volunteer Opportunities
The Video History Project is comprised solely of volunteers. Opportunities abound and training can be provided.
Schedulers: Schedule interviews, working with the Interviewee, Interviewer, and Videographers.
Videographers/Editors: Learn to record in a professional-style studio and edit video with Adobe NLE editing software (will train!!).
Administrative: recruit candidates for interview, review and comment on draft video interviews.
If interested, please contact the UCDEA Video Records Committee via the UC Davis Retiree Center.