UCDEA Video Records Project
History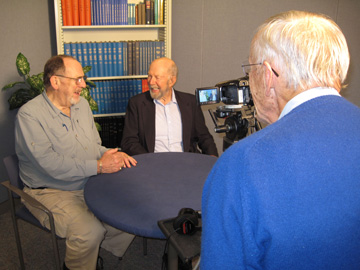 Since 1993, the UCDEA Video Records Project has been creating an oral history of the UC Davis campus by recording interviews of emeriti/ae as well as others who have made significant contributions to the development of the university. These interviews usuallly take the form of a recorded conversation between the interviewee and one of his/her friends and/or colleagues. More than 400 interviews have been recorded to date (Spring 2014). All new emeriti/ae are encouraged to arrange for an interview.
Each interview participant receives a complimentary DVD of the interview. Additional copies may be obtained on request. A small donation ($10/copy) is suggested for additional copies. Interview videos are shown regularly on the Davis Community TV (DCTV) cable channel, and may be streamed from their website.
DVDs of the Video Records Committee interviews are on file in Special Collections, Shields Library. The Special Collections Reference Desk is on the Main Floor of the Library. Please consult the Reference Desk to check out a tape for viewing.
Reference Desk Hours: 9 a.m. to 4 p.m.; Monday through Friday
Reference Desk Phone: (530) 752-1621
Recent Recordings
The following recording has been recently posted for viewing:
In Memoriam
We note the recent passing of two prominent Emeriti, who had the forethought of being included in the Video Records Project:
These videos leave a lasting legacy. Please consider what being able to view these two videos meant to you, and if you have not already been interviewed for the UC Davis Emeriti Association's Video Records project, click here to contact our schedulers.
Centennial DVD Project
As part of the commemoration of UC Davis' centennial in 2010, Professor Emeritus Verne Mendel compiled many of the Video Records Project interviews — organized by college, school, or department — to create 23 DVD's. He was awarded the Edward A. Dickson Emeriti Professorship Award in 2008 for this project. Centennial DVDs may be viewed in the Special Collections section of Shields Library.
About the Committee
The primary objective of the Video Records Committee is to record for posterity, interviews of emeriti/ae and distinguished retired members of the UC Davis campus. Additional information, including the current Charge and committee members can be found on the Standing Committees > Video Records Committee page.
Volunteer Opportunities
The Video History Project is comprised solely of volunteers. Opportunities abound and training can be provided.
Schedulers: Schedule interviews, working with the Interviewee, Interviewer, and Videographers.
Videographers/Editors: Learn to record in a professional-style studio and edit video with Adobe NLE editing software (will train!!).
Administrative: recruit candidates for interview, review and comment on draft video interviews.
If interested, please contact the UCDEA Video Records Committee via the UC Davis Retiree Center.